Finding the answers
Helping you get answers to your websites questions is our support teams number one concern. At Zeald, Support is more than one person telling you what to do. Support at Zeald is an entire system.
We understand that everyone is different. We learn in different ways and have different pressures and constraints. We believe the key factors to delivering excellent Support are timing, accuracy and cost.
As we have understood the differences and key factors we have developed a Support system that is varied, effective and efficient. Below is the 8 methods of Support. Each is invaluable and helps to answer your website questions.
1. A user-friendly interface website manager
We all do it....when we get a new television, we take it out of the box, plug it in and simply fumble our way through the setup process. Most times we work it out by trial and error. We often don't end up using all of its functions but manage to figure out enough to get us by. Sometimes we may need to refer to the user manual, but we prefer not to.
Knowing this we have made our interface for the website manager the first focus. Our product team has spent significant time and effort to build each feature of the website manager to work in an obvious and intuitive manner. We have studied similar interface systems so that we build on existing methods that you might already be familiar with. We are committed to continually improving and keep a close eye on developments in this field.
If you would like to make a suggestion, general feedback or ideas for improving things, things that will ultimately make you happier, please email your feedback through to support@zeald.com. Also keep an eye on our new released developments in our Whats new.
2. Context sensitive tips
If you are unsure of what to enter into a field the answers are here. The information is located to the right of each form input. The text is in a grey colour so not to distract you from your main task but it is there as a guide. The text gives handy tips to explain what type of information the system is looking for and provides specifications on how to present information, (i.e., the recommended number of characters).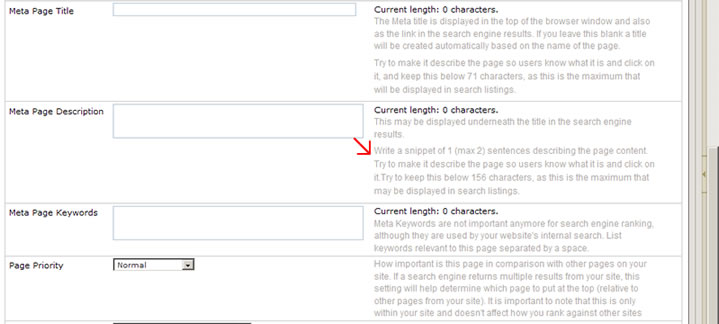 3. Just have a go
One of the best ways to learn and to get the most out of the functions available to you is to give it a go. Experiment with things, you will be surprised at how great the results will be. Don't worry, you can't really break your website. Rely on your instincts in the same way you would if you were figuring out how to set up your new TV........get the TV out of the box and plug it in....and give it a go :)
4. Online Help
Yes you are in it! This is an ever evolving collection of articles that provide solutions to your website questions. Bookmark the Online Help so you can open up a new browser at anytime and get help on what you are working on. You can also get to the Online Help by clicking on the ? Help buttons on the top right hand side of the Website Manager.
Remember, the Online Help is available to you or any of your chosen website administrators to use whenever you/they like, 24 / 7. The Online Help is the first port of call to answer any technical how to queries that you might have regarding your website. Use the search box or browse the categories.
If you cant find the answer in the Online Help, please use our comments section. Go to the bottom of the most relevant page and ask your question. We will answer your question, quickly with a chrisp, clear solution direct from our technical people.
These answers are then available to other Zeald clients.....hey if know the answers to a query of someone else's, please feel free to help out other clients - We encourage you to get involved. Join the social media revolution, it really does work and it is fun.
5. Training session
We understand that reading text and watching videos is not the best way for everyone to learn. The Learning Centre is just our FREE option. A Zeald training session can be a valuable investment and can help ensure you are doing things in an efficient manner and are taking full advantage of the Zeald system.
If you would like a bit of one on one time and have one of our trainers show you round your very own website, book a Virtual Training Session.
6. On-site content loading (Website administration)
In most regional areas we have On-site Content Loaders who will come and visit you at your site to help you load your website with you. This is a great way to learn and get the job done at the same time. Learn more about Website administration
7. Support Team
The Support Team are a skilled group who are available by email and phone to help you find the answers to your website questions. The Support Team are available Monday- Friday 9am-5pm excluding public holidays and Zeald's Christmas closure period. Meet the support team
Email Support: support@zeald.com Phone Support: 0508 932 748 Ext1 Live Chat Support: Available 9am - 5pm Monday to Friday - you can access this through the bottom right hand blue pop-up here in the help files - or in your website manager.
Support resources
What if I have a bug? Sometimes the system gets problems in it that need to be fixed. When this happens a bug needs to be reported to the Support Team. As a general rule, the more details you can provide the better. The Developers have to be able to re-create the bug in order to fix it. Check out these when you need to let us know.
System Status If you are experiencing problems with your website, for example, it is not accessible or it is taking an excessively long time to load, there maybe a problem with our servers.
Tips to improve Regular, quality guidance to help you improve your website.
What to do in an outage We take outages very seriously. We do our very best to avoid serious outages and are continually working to improve reliablity. Unfortunately sometimes outages do happen. Be prepared for an emergency before it happens.
After hours support Zeald offer a 24/7 paid after hours support service, just incase there is something that can't wait for the next working day.
Monthly NewsletterWe have a monthly newsletter that we send out every month to all our clients and any one who is interested. This newsletter contains lots of great tips to help you improve your Zeald website..
What about a printed manual?
We are sometimes asked why don't you guys provide a printed manual? Its not an oversight that we don't provide a printed manual. We decided not to provide one because:
Printed manuals require the death of trees, and trees are our friends. They turn our carbon dioxide into oxygen :) It will most likely end up in a pile with the TV installation instructions :(

Printed manuals go out of date and expire as soon as you press the "print" button. Our On-line help is a living breathing encyclopedia of Zeald, that is continually growing and evolving. Every day we are adding and improving the information.

A printed manual is not "searchable" The really cool thing about information in an electronic format is that you can SEARCH for specific answers, as opposed to trawling through a large index.